Home
Welcome to Billy Button's Home Page
Stewart Lodge is Billy Button Song & Dance Man: performing Cabaret, Music, Comedy and can be booked as Comic Character, Actor or Compere.
What's New: Billy Button's Bonkers Bingo 

Post ironic, anti-professional, character comedy.
Basically a man in a wig doing silly songs.
Stewart Lodge (as one of resident comperes) appears regularly
at Cabaret Boom Boom in Walkley Sheffield: The best Cabaret in the World (is that right? Ed)
---
Billy on Twitter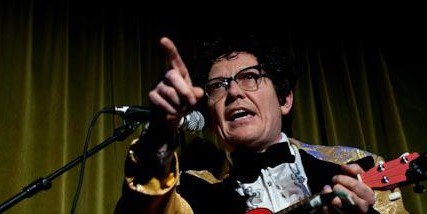 Billy on Facebook
Billy Button
Friday, January 26th, 2018 at 12:49pm
Finbarr
Cabaret BoomBoom have got a couple of excellent family events coming up. A poetry and wordplay event with John Hegley on the afternoon of Saturday March 17th, and a second family cabaret on the afternoon of Saturday 28th April. Me Jess and Aub are going to John Hegley (and the evening cabaret that day too) - does anyone fancy coming with us? There are plenty of tickets yet but it'll sell out before long.
We'll probably do the family cabaret too but that feels like quite a way ahead yet!
---